International Transaction Journal of Engineering, Management,& Applied Sciences & Technologies
Archives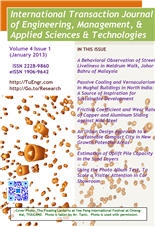 V4(1) 2013:: Cover Photo: The Floating Lanterns at Yee Peng International Festival at Chieng-Mai, THAILAND

FEATURE PEER-REVIEWED ARTICLES
Hasanuddin Lamit (Department of Landscape Architecture, Universiti Teknologi Malaysia, MALAYSIA) Amir Ghahramanpouri *, and Sepideh Sedaghat Nia (Department of Architecture Universiti Teknologi Malaysia, MALAYSIA)

(mirror at slideShare) (mirror at Calameo) (mirror at ScriBd)
Keywords: Pedestrian Street; Street Liveliness; Walking Pedestrian; Sustained Pedestrian 


Abstract
On Malaysian streets nowadays, main priority is given to vehicular elements, which seems to comprise the functional qualities of urban public space for human interaction. To perk up such streets, "pedestrianisation" results in making a city centre pedestrian- friendly, and expedites the preservation of historical districts. Problem statement: Existence of people engaging in a variety of sustained and social activities can makes a street lively. Approach: As liveliness involves levels of activities, uses, interactions and their representation, current research appraises street liveliness through behavioral observation of sustained pedestrians' activities in Meldrum Walk. Result: The data on traffic modes, walking and sustained pedestrians of diverse age groups and genders, different types of activities, postures, over different times of day and night analyzed. Conclusion: Proposing a wider range of attractions and opportunities for activities besides walking, working and shopping for users of different age groups and capability - which would qualify the environment and lead to elaborate the liveliness of such streets, is recommended.
| | |
| --- | --- |
| | Asif Ali * (Architecture Section (University Polytechnic), Aigarh Muslim University, INDIA) |
Keywords: Energy efficient buildings; Passive cooling; Vernacularism; Mughal architecture 


Abstract
In the present time, scrupulous use of energy is a challenge for the world population. The natural resources of energy are depleting day by day and the present resources seem inadequate to fulfill the need of human beings in future. Global warming and depletion of fossil fuels pose the dual crisis for sustainability. The building sector, being a major consumer of energy necessitates a critical scrutiny on this aspect. The techniques used for cooling, heating and ventilation of the buildings in the past were more harmonious with the nature. Use of locally available resources for design of historical buildings was energy efficient. The passive cooling in historical buildings provides a source of inspiration for sustainable development in contemporary world. In this paper, the author has examined various passive cooling techniques and locally available resources used in Mughal buildings in North India. The design elements of these buildings have evaluated on the basis of their suitability to the climate. The findings of this study suggest further research to explore guidelines for designing energy efficient buildings for sustainable development in the present era and future world.
| | |
| --- | --- |
| | Dewan Muhammad Nuruzzaman * (Faculty of Manufacturing Engineering, University Malaysia Pahang, MALAYSIA) and Mohammad Asaduzzaman Chowdhury (Department of Mechanical Engineering, Dhaka University of Engineering and Technology (DUET), Gazipur, Gazipur-1700, BANGLADESH) |
Keywords: Copper; aluminum; friction coefficient; wear rate; mild steel; normal load; sliding velocity. 


Abstract
In this research, friction and wear of copper and aluminum
are investigated experimentally using a pin-on-disc apparatus. In the experiments, mild steel pin slides on copper or aluminum disc at different normal load conditions 10, 15, and 20 N. Experiments are also carried out at different sliding velocities 1, 1.5 and 2 m/s. The effects of duration of rubbing on the friction coefficient of copper and aluminum are investigated. It is found that during friction process, copper or aluminum disc takes less time to stabilize as the normal load or sliding velocity increases. Time to reach steady friction varies depending on applied normal load or sliding velocity for both copper and aluminum. Within the observed range, friction coefficient decreases when applied load is
increased while it increases when sliding velocity is increased for both copper and aluminum. In general, wear rate increases with the increased normal load and sliding velocity. Finally, as a comparison, it is found that friction coefficient and wear rate of copper are much lower than that of aluminum within the observed range of normal load and sliding velocity.
| | |
| --- | --- |
| | Karteek Guturu * (Department of Architecture, School of Planning and Architecture-Vijayawada, INDIA) |
Keywords: Sustainable compact city; Population Density; Conventional Energy; Land Resource; Urban sprawl. 


Abstract
Existence of Cities always depends on the region for the resources-land, food, water, energy or maybe cheap labor. The resource base is vital for the survival of the cities. With increasing urban sprawl there is a great impact on the future of cities and their sustenance. The primary intent of the study is to demonstrate an Urban Design approach towards a sustainable compact urban model in new growth potential areas (case of Cyberabad, Hyderabad, India) as a means to counteract city's faceless sprawl and environmental degradation by generating compact high density, low energy, mixed-use living and integrating it with the existing city fabric reducing the ecological footprint for future generations. As the selected site offers good natural features, ecologically sensitive areas of the site i.e. Steep slope areas, catchment channels and climatically unsuitable areas from the open space system of the development. The sustainable compact city design approach balances the environmental loads and the growth of city saving resources, conserving energy and enhancing the quality of life.
| | |
| --- | --- |
| | Weeraya Chim-oye *, and Narin Marumdee (Department of Civil Engineering, Faculty of Engineering, Thammasat University, THAILAND) |
Keywords: Ultimate uplift pile capacity; Tension pile load test; Uplift capacity; Sand layer. 


Abstract
There are several methods available to analyze and evaluate the ultimate uplift capacity of pile in the sand layers, based on a homogeneous soil layer. This research compares the three estimations of ultimate uplift capacity of pile developed by Kulhawy et al (1979); Das (1983) and Chattopadhyay and Pise (1986). Since the field experiment did not reach the failure state, the Modified Mazurkiewicz method has been used to predict ultimate uplift capacity of piles. It is found that Kulhawy et al (1979) ultimate uplift capacity is closed to field data, providing the highest safety. In contrast, the ultimate uplift capacity by Chattopadhyay and Pise (1986) method shows the highest difference from the ultimate uplift capacity.
Firas Al-Helly * , and Fuziah Ibrahim (School of Housing, Building and Planning, University Sains Malaysia, MALAYSIA)

(mirror at slideShare) (mirror at Calameo) (mirror at ScriBd)
Keywords: Colour Test; Photo Album Test; Projective Technique; Car Showroom; Showroom Design. 


Abstract
Colour plays a vital role in visual perception, especially in the fields such as marketing, exhibitions and branding image. Colour is one of interior design elements, which the colour had a significant impact on the behaviour of human beings, within the interior spaces. This study aims to set a numeric scale, to measure the visitor attention into the auto-show exhibition space, by testing the effect of colour as an independent variable, on attracting visitor attention as a dependent variable. Our Photo Album is an instrument of projective technique to obtain the maximum level of validity and reliability of data collection during interviews. The interview recorded the respondents' impressions by manipulations of foreground and background colours. The data are recorded in the tables and analysed accordingly. The results show that there is a significant relationship between the colour effect and attracting the visitor attention. The technique developed and the result of the study will provide a base for future studies.

Previous: Vol 3(4) October 2012 ......... Next: Vol 4(2) April 2013


Call-for-Papers
Call-for-Research Papers: ITJEMAST invites you to submit high quality papers for full peer-review and possible publication in areas pertaining engineering, science, management and technology, especially interdisciplinary/cross-disciplinary/multidisciplinary subjects.

To publish your work in the next available issue, your manuscripts together with copyright transfer document signed by all authors  can be submitted via email to Editor @ TuEngr.com (no space between). (please see all detail from Instructions for Authors)


Publication and peer-reviewed process:
After the peer-review process (4-10 weeks), articles will be on-line published in the available next issue.  However, the International Transaction Journal of Engineering, Management, & Applied Sciences & Technologies cannot guarantee the exact publication time as the process may take longer time, subjected to peer-review approval and adjustment of the submitted articles.
Indexed in:

Google, Google Scholar, Ohio Link, Hong Kong University, OpenJ-Gate, Universit?t Regensburg Germany, OALib (China), Scribd, DocStoc