International Transaction Journal of Engineering, Management,& Applied Sciences & Technologies
Archives
Vol.5(2) (April 2014)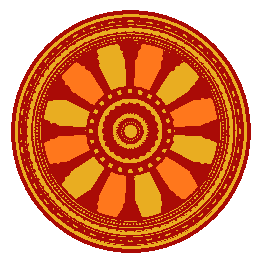 :: International Transaction Journal of Engineering, Management, & Applied Sciences & Technologies

http://TuEngr.com



ISSN 2228-9860
eISSN 1906-9642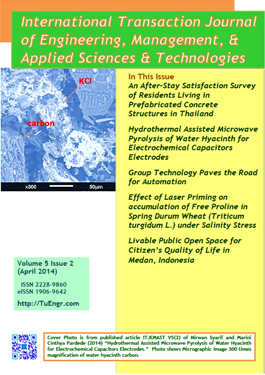 Cover V5(2) April 2014
Fast Mobile View Full Issue V5(2)
(mirror full issue @ SlideShare, Full issue @ Issuu, Full Issue Fast Web View, Quailty Web View)

FEATURE PEER-REVIEWED ARTICLES
Boonsap Witchayangkoon * , Sayan Sirimontree, Saharat Buddhawanna (Department of Civil Engineering Faculty of Engineering, Thammasat University, THAILAND) Thiti Koonnarittipol, Tanic Chaninsathapat (TEPE and Department of Civil Engineering, Faculty of Engineering, Thammasat University, THAILAND ) and Chattichai Waisurasingha ( Department of Civil Engineering, Faculty of Engineering, Khon Kaen University, THAILAND)
(Optimized )

Keywords: Questionnaire survey; Prefabrication building; Residential satisfaction; Satisfaction criteria; Dormitories; Detached Houses; Townhouses.  


Abstract
We have conducted an after-stay satisfaction survey of residents living in prefab concrete buildings. Many modern fast constructions make use of prefab parts, but no research on living satisfaction has been made. Multiple criteria questionnaire survey has been conducted to find out satisfaction on comfortable lives. Nine criteria have been surveyed: moisture protection, noise prevention, safety of structures, thermal prevention, air flow, external appearance, interior, facility, and overall satisfaction. Comparisons from the survey results in term of five-level Likert scale satisfaction are drawn from prefab-made dormitories, detached houses, and townhouses. The surveyed results are somewhat identical, but noise problems are the most concerns for people living in dormitories. For prefab-made detached houses and townhouses, problems in renovation and augmentation are highly alike in terms of difficulties and complexities, compared to non-prefab-made houses.
Nirwan Syarif * and Marini Cinthya Pardede (Department of Chemistry, Faculty of Mathematics and Natural Sciences, Universitas Sriwijaya, INDONESIA)
(Optimized )

Keywords: Cheapstat; Epoxy resin; Nanoparticles; Triethanolamine; Supercapacitor.

Abstract
We develop 'green' approach to prepare conductive carbon material from water hyacinth (Eichhornia crassipes) powder for use in electrochemical capacitor device.  The features on morphology, crystallography and surface functionality were analyzed based on SEM, XRD and FTIR instrumentation, respectively.  The electrical conductivities were measured using four-point probe.  Electrochemical properties were studied using cyclic voltammetry. SEM analyses indicated the existence of nanoparticles in the carbon samples.  XRD analysis showed that carbon sample had sharp peaks indicating crystallite carbon and sylvite.  FTIR analysis showed that the carbon have common surface functionalities which also can be found in other conductive carbon samples. The electrical conductivities test showed that the carbon had 0.001–1.5 S cm-1 of conductivity.  The shape of the cyclic voltammograms were typical for carbon electrode that use in electrochemical capacitor.
Ravindra Thamma *, E. Daniel Kirby, Amit Ohri, Paul Rinalidi (Robotics and Mechatronics Engineering Technology Program, Department of Manufacturing and Construction Management, Central Connecticut State University, USA) and Mark Rajai (Department of Manufacturing System Engineering & Management, California State University Northridge, USA )
(Optimized )

Keywords: GT; Flexible Manufacturing Cell; Flexible Manufacturing System.  


Abstract
Group technology (GT) has traditionally been a manufacturing philosophy in which parts are identified and grouped together to take advantage of their similarities in manufacturing and design. Similar parts are arranged into part families. In manufacturing, since each family possesses similar manufacturing characteristics, the processing of each member of a family is similar. This study illustrates the important role that GT plays in design of an automated manufacturing system. This is accomplished by creating an ideal application of GT to automation with manufacturing machine cells and part families based upon the design and manufacturing process. In this GT scheme, each machine cell takes care of an individual part family and is independent of rest of the system. Manufacturing cells that process such part families have fewer challenges to automation than cells that process parts without any grouping.
Naeemeh Zare, Seyed Ahmad Sadat Noori * (Department of Agronomy and Plant Breeding, College of Abouraihan, University of Tehran, Tehran, Iran ) Thiti Nayer Azam Khosh kholgh Sima (Agricultural Biotechnology Research Institute of Iran, Karaj, Iran ) and Seyed Mohammad Mehdi Mortazavian ( Department of Agronomy and Plant Breeding, College of Abouraihan, University of Tehran, Tehran, Iran )
(Optimized )

Keywords: laser irradiation; proline accumulation; salt sensitive; salt tolerance; seed treatment technique.  


Abstract
Experiments were conducted during 2012 in a greenhouse of College of Abouraihan, University of Tehran, Iran. In this study the Effects of salt stress and laser priming on proline content of durum wheat (Triticum turgidum L.) was carried out in a factorial experimental based on a randomizely complete block design (RCBD) with three replications. Seeds from two cultivars salt sensitive and salt tolerance of Durum wheat (Triticum turgidum L.) were exposed to neodymium-doped yttrium aluminum garnet (Nd-Yag) laser irradiation (75 mW cm-2, radiated for 12 min). Salinity treatments carried out in four levels (Control, 70, 140 and 210 mM) via sodium chloride. The sampling from first leaves was carried out on four stages of growth and their proline content was measured. The result showed that free proline content in leaves increased significantly by increasing of NaCl concentration and salt tolerant variety accumulate more Proline than sensitive variety. Also proline content significantly increased with irradiation by laser beam in salinity condotion. These results indicate that the low power continuous wave Nd–Yag laser light seed treatment has considerable biological effects on plant metabolism. This seed treatment technique can be potentially employed to enhance agricultural productivity.
Achmad Delianur Nasution (Department of Architectuure Faculty of Engineering, University of Sumatra Utara, INDONESIA ), Abdul Ghani Shalleh, and Julaihi Wahid (School of Housing Building and Planning, University Sains Malaysia, MALAYSIA )
(mirror at slideShare) (mirror at Calameo) (mirror at ScriBd)

Keywords: Urbanization; Privatized public spaces; Life quality; Perception; Physical factors; Likert scale  


Abstract
The decreasing of public open space quality by the urbanization pressure has declined its function as a 'free' place for people to do various activities which contribute to their quality of life. Among the typical cities' problems in developing countries, such as the poor environment quality, the social gap which becomes wider, the increasing of the gated community and the privatized public spaces, and the public open space which becomes more denying among the other development's priority, the research means to identify how livable public open spaces are and how its livability relates to the quality of life. The research found that the public open space in Medan city is a livable place when it has a high level of usage. The livable public open space relates to quality of life via the satisfaction with health, recreation and urban environment.
Previous: Vol 5(1) January 2014 .... Next: Vol 5(3) July 2014

Call-for-Papers
Call-for-Scientific Papers
Call-for-Research Papers: ITJEMAST invites you to submit high quality papers for full peer-review and possible publication in areas pertaining engineering, science, management and technology, especially interdisciplinary/cross-disciplinary/multidisciplinary subjects.

To publish your work in the next available issue, your manuscripts together with copyright transfer document signed by all authors  can be submitted via email to Editor @ TuEngr.com (no space between). (please see all detail from Instructions for Authors)


Publication and peer-reviewed process:
After the peer-review process (4-10 weeks), articles will be on-line published in the available next issue.  However, the International Transaction Journal of Engineering, Management, & Applied Sciences & Technologies cannot guarantee the exact publication time as the process may take longer time, subject to peer-review approval and adjustment of the submitted articles.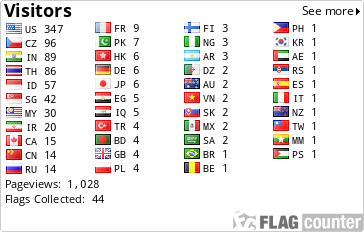 2014 Rights Reserved.